Assumption of Mary / Ferragosto in Italy
Every year many Italians observe Assumption Day, also known as Ferragosto, on August 15. This national holiday celebrates the Catholic belief that God took the body of Jesus' mother Mary into heaven at her death.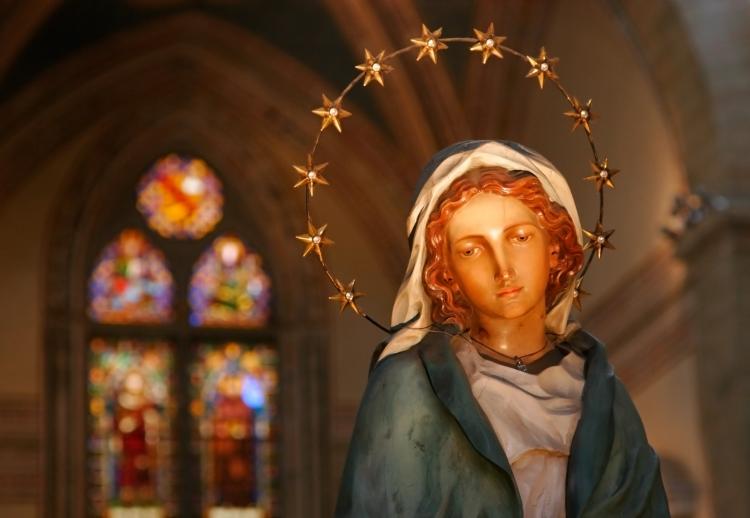 What Do People Do?
Ferragosto is a widely celebrated national holiday in Italy during the summer. It involves processions of people carrying the statue of Jesus' mother Mary in many towns and cities . One of the days of the Palio di Siena, or Il Palio in the city of Siena in Tuscany is held on August 16, coinciding with Assumption Day. This event involves a horse race around the Piazza in the city. Firework celebrations also take place on evening of Assumption Day.
Public Life
Assumption Day is a nationwide public holiday in Italy. Organizations and businesses that are closed include:
Government offices.
Post offices.
Banks.
Schools and other educational institutions.
Transport options, such as taxis, rail services between major cities and major long-route bus lines, are available but travelers are advised to check first with the local transport authorities. This past week we did have a car, however, a Sr. couple was headed to the Swiss temple with their ward and so they left us the car for a week. It was great fun and we did not always find our way without getting lost a few time, but thank goodness for GPS and google. We went to several stores and found our favorite one called Auchan, it is like a super walmart and it is in the largest Mall in the area. The entire parking lot is underneath the entire mall and we found it easy to get lost in.
We went in and Melinda wanted a watermelon and came back with one in the cart that must have weighed close to 50lbs. We brought a large shopping bag and it barely fit in it, but I had the carry that beast around while we tried to find our car later. Thank goodness we found a cart someone left and was able to cart it around while we looked for the car. Then I had to carry it up to our apartment. Whew! what a workout!
Thursday we had a short appointment with our trainer and then we jumped into his car and headed to Ladispoli which is on the cost about an hour out of Rome. We had a 45 minute meeting with Elder Alessandro Dini-Cicci of the seventy. It was a privilege to meet with him and discuss how we might better serve the people and get the priesthood leaders involved. A fruitful meeting too, as Ether Simoncini, our manager, walked away with an invitation to come to the next CCA meeting where Elder Dini-Ciacci meets with the stake presidents in this area and there, he will allow Ether to present on the status of the Self Reliance Initiative.
We had fireworks last night until late. Weather was nice and cool with a gentle breeze, probably around 67 degrees. With all the noise and celebration going on outside it was most difficult to sleep with the windows open. We hated to turn on our air conditioner. Oh, well tonight will be better.
We went out to eat and naturally there are many pizza places, so we chose the one closest to our home.
Not like the pizza we have in the states. Warren got a combination pizza with veggies and prosciutto. I settled with a healthy eggplant pizza. It tasted good, because we were hungry. Not our favorite spot! We have plenty of time to scout things out better. The people in the office were telling us about great hamburger places, however when in Italy go for the authentic cibo.(food)
In the back of our apartment is quite a sight! Yes you can see the writing on the window, GELATO Warren felt like we needed to visit and make ourselves know in the neighborhood. Warren found a little selection, I have a little lactose intolerance going on so I opted for a coconut cookie. Warren reports that the gelato was well worth it. Cookie was store bought and not that good. Very nice young couple, who were also the proprietors of the establishment let me practice a little Italian with them. They were very nice and even got a little chuckle over my lack of italian. Warren explained who we were, and what we are doing here. They were cute!
We have an up coming YSA conference (Young Single Adults) this Saturday thru Wednesday. We will be participating with the Self Reliance Initiative. Mainly how to write a resume, look for a job and all that goes with it. We have our Senior Directors coming down from Germany to take us to the conference in Assisi.
We hope to send more pictures your way when we go there.
Sunday, We road with Anziano Simoncini to church in his little toyota Yaris. I should have set more in the middle to balance out the weight, because I could feel our passenger side was a little heavy as we hit potholes.
We arrived at our Rome 1st Ward, (church) Warren pops out of the car after letting me out and stands at the door to greet our fellow saints. We are about 20 min early and not many were there so we go inside.
We finally got started on the hour, 9:00am, and people started to fill in. We had about 65 people there. We met the Bishop of the Ward. He is a local dentist. The talks were wonderful, spiritual and uplifting. The speakers spoke on ministering, a wonderful part about our church and it's members. I love the quote that the high counsel man use,
"To minister" is defined as attending to the needs and wants of others. The Bible Dictionary adds, "The work of the ministry is to do the work of the Lord on the earth—to represent the Lord among the people."2
Ministering involves extending charity—that pure love of Christ—to others, one person at a time. By doing so, we offer a kind, generous, peaceful, and pure heart. Opportunities to minister may come within the formal stewardship of a calling or assignment, or they may come as we spontaneously extend ourselves to someone in need. I believe these words of Elder Maxwell: Our impact is less likely to emanate from the pulpit—more often it will occur in one-to-one relationships, or in small groups where we can have an impact on an individual.
Such ministering follows the scriptural admonitions that should govern our every interaction with all of our brothers and sisters: "Be gentle unto all men, apt to teach, patient." "See that ye love one another with a pure heart fervently." As we offer such Christlike service to those around us, we and they are blessed and feel His love.
Today, Monday 8/27/2018 We had a Zoom chat with our Manager, Ether Simoncini. Great individual full of enthusiasm and zeal for the great work of self reliance. We organized with him the plan for the conference. We studied Preach my gospel after a walk around around our apartment area.
  This is our Apartment, they are fairly new apartments. We live on the 4th floor. It is a 2 bedroom, 2 bath, we even have a clothes washer, no dryer however, so we have to hang the clothes up in the apartment and turn the fan on them to get them dry. We tried putting them out on the balcony, but the humidity is high here and they never did dry out, so we put them in front of the fan and got them dry by the next day.